Fad-diets may give quick results but are detrimental for health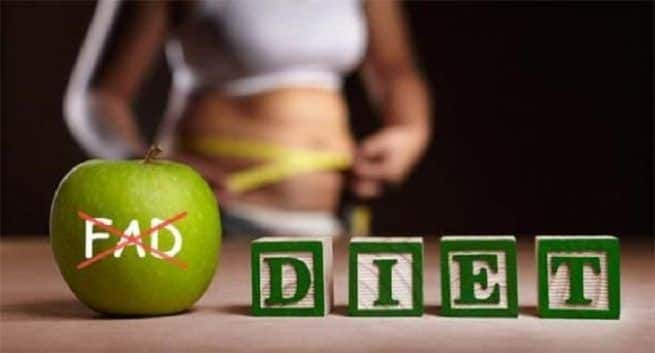 Fad-diets and weight loss may be lined but these are not healthy. © Shutterstock
It's important to keep your weight under check. It's also important to be disciplined when it comes to your diet. Eating right, at times eating less and taking only that you think is essential for body-all this too is right to an extent. But are you following a fad-diet just because it promises to give instant results? If yes, you might have put your health in trouble.
Fad-diets: what body goes through?
Imagine, if at all a single fad-diet is beneficial, why would there be a need of a new one? These come in so frequently that it's difficult to even analyse their effects. Fad-diets alter the metabolism of the body. You are body is a mode of eating everything till a point when you suddenly start telling it what to eat and when. Also, the basic rule of any diet is based on cutting a group of food altogether from the diet. For instance, cutting all carbs and relying only protein. Now this may result in quick weight loss but eventually your body is devoid of all kinds of carbs, even good ones which are essential for body functioning.
Another important point to think of while starting a diet is how long you will be able to continue with the diet? If you think it's sustainable, making it a way of life might not be a problem. If in case it's a short-term plan, it's not less than a shock for a body to get back to the normal diet plan after dieting. Few diets even make you lose your muscle weight. While it will reflect on your weight scale, when this weight gets back it adds more fat and replaces the muscle weight that was lost.
Side-effects of fad-diet
Dehydration: Factually, the major part of the weight that's lost because of fad-diets is water weight. That's the reason for quick weight loss and thus it can result in dehydration. Body has a particular pattern of losing weight; it happens gradually in phases. If you force your body to lose weight in lesser time, there will be repercussions and dehydration is the major one. Hydration is the key, losing water weight can result in serious headaches, nausea, migraines and serious health issues.
Lack of energy: If you restrict calories, body will be left with lesser resources to generate energy from. Therefore, it starts using stored fat and then the muscle fat to generate energy. This leaves you tired and feeling fatigued. However, a good diet will always leave you energetic.
Digestive issues: Your body takes time to adjust to a new diet. This means even the metabolism of the body gets altered and it takes time to adjust to the new diet. Also, in the absence of a particular food group, your body might not be getting nutrients that are important for its gut health. This can either result in serious diarrhoea or constipation.
Malnutrition: Such diets are not balanced; these usually cut off one food type from the diet for a long period. This can prevent body from getting all essential nutrients. Remember, body needs everything, and you cannot have a healthy weight loss if you are keeping it away from any of the nutrients. Therefore, it may result in serious malnutrition issue in the absence of any food segment.
deavitade.com health Fad-diets may give quick results but are detrimental for health
Related News
In a post shared on Reddit, the man was ecstatic to reveal he had lost an incredible 175lbs - that's an impressive 79 kilograms - in 13 months. Ethan, known online as "u/3995346" shared that
Marcos, or macronutrients, is a way of breaking down what dieters eat on any given plan. It refers to the larger groups of nutrients, carbohydrates, protein and fats. Many claim the different break down of macros can
Marcos, or macronutrients, is a way of breaking down what dieters eat on any given plan. It refers to the larger groups of nutrients, carbohydrates, protein and fats. Many claim the different break down of macros can
Will Smith and Jada Pinkett Smith held an intervention for son Jaden after he started to show signs of malnourishment. On the latest episode of Jada's Facebook Watch series " Red Table Talk," Will gathered his
Declan Donnelly is best known for being one half of TV duo Ant and Dec. The 43-year-old recently revealed that he's interested in getting fit and it's all thanks to his pal Simon Cowell. The
The tuna diet is based on accomplishing weight loss goals within a short span of time. It is seen as a method to stop making unhealthy food choices. Some experts dismiss this diet plan introduced
More News in Health
The market report, titled "Burn Care Market" is a broad research dependent on Burn Care market, which examines the escalated structure of the present market all around the world. Planned by the
The Orange County Mosquito and Vector Control District announced on October 15 that collected mosquito samples from the place have tested positive for Saint Louis encephalitis. The samples that tested positive were collected on October 10
Diana Nalubwama had noticed a lot of children in her neighborhood in Wakiso, a town on the outskirts of the capital, Kampala, had suddenly been coming down with measles, a disease that was rarely seen
The worldwide "Medical Batteries market" statistical surveying report is an inescapable research report that contacts the most imperative parts of the Medical Batteries platform that is important to be gotten a handle
By Kampala Post Reporter Uganda Peoples' Defence Forces (UPDF) has been working together with the Ministry of health in the mass immunization campaign against Measles, Rubella and Polio. The UPDF medical team joined the Ministry health workers